To:

Dr. Shirley Jackson, President of Rensselaer Polytechnic Institute in Troy, NY
Dr. Shirley Jackson, please stop working for big oil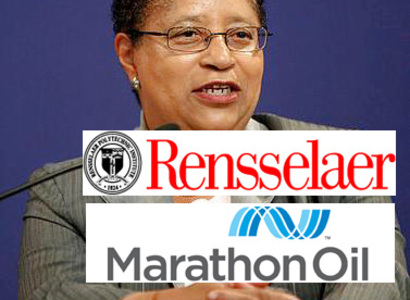 Dear Dr. Jackson,
We respectfully request that you step down from the board of the Marathon Oil, a company that is actively contributing to unacceptable environmental and public health problems on local, national, and global levels. The President of a great university should not be associated with such activities.
It is widely acknowledged that fossil fuels are driving dangerous climate change and cause toxic contamination of air, water, soils, and bodies -- and fossil fuels are Marathon Oil's business. The boom in unconventional energy production only deepens the problem, and Marathon Oil's responsibility. The consequences and need for accountability are local, national and global.
The Rensselaer Plan 2024, says that "we look forward to addressing the Global Challenges that face the world of the 21st century—to change lives, to advance society, and, indeed, to change the world." This means that Rensselaer should be at the forefront of effort to solve climate change. But by serving on the board of a fossil fuel company, you are directly contradicting this goal, and undermining RPI's standing as a leading university. You also undercut the confidence of students, who find it difficult to see RPI as preparing them for great futures while simultaneously destroying the very climate their future depends upon.
We appeal to you to resign from the board of Marathon Oil because your role directing this oil company contradicts your goals as president of Rensselaer Polytechnic Institute, undermines your position as a role model for young people who are inheriting the burden of climate change, and potentially damages your reputation as a scientist, policy expert, and public servant who takes human and environmental health risks seriously.
While most everyone on the planet today bears some responsibility for the impacts that fossil fuels have on the environment and human health, your role is special. Serving on the board of an oil company is an enormous responsibility in all senses of the term. Please accept this responsibility and resign from your position on Marathon's Board. This is your moment to remain on the right side of history, or to accept a disproportionate share of responsibility for the consequences.
Why is this important?
Dr. Jackson, you are being asked to step down because of the impact that Marathon Oil has on environmental health issues at a local, national, and global level.
LOCALLY
Only 8 miles from your home and RPI, for example, the health and welfare of people who live in Albany (including RPI students) are at risk because highly volatile Bakken Crude -- which Marathon Oil produces -- rolls through their communities -- in rail DOT-111 rail tankers that the National Transportation Safety Board itself says put communities at risk. Explosions and fires have already wreaked havoc in communities around North America, including the massive blast in Lac Megantic, Quebec that killed 47 people. These "bomb trains" filled with volatile crude pass within hundreds of feet of densely populated residential areas, and often sit for days on tracks just behind public housing complexes.
NATIONALLY
The shale gas boom is also expanding fossil fuel production and transport, and creating new problems and risks across the United States. Marathon Oil is active in the Eagle Ford Shale Play near San Antonio, for example. More than 7,000 new oil and gas wells have been drilled in the region since 2007, and thousands more are planned, resulting in dramatic air pollution and associated ill health. Many RPI students and alum are directly impacted because of shale gas developments in their home communities. Meanwhile, research demonstrating often irreversible damage to the environment and human health because of the long chain of activity associated with the shale gas boom continues to build. RPI could play an important leadership role helping translate this research into public policy, firmly grounded in science.
GLOBALLY
Fossils fuels also create tragic global challenges, with Marathon Oil again bearing notable responsibility. The United Nations reports that that climate change already kills hundreds of thousands of people per year, and that the world's poorest people are the most vulnerable. Climate change is also creating political instability, driving people across borders and creating diplomatic crises that show no sign of resolution. Fossil fuels -- and Marathon Oil -- are deeply implicated in these tragedies.