To:

Assistant Attorney General, Environment and Natural Resources Division, U.S. Department of Justice
Shut Down Line 3, Don't Replace It!

MN350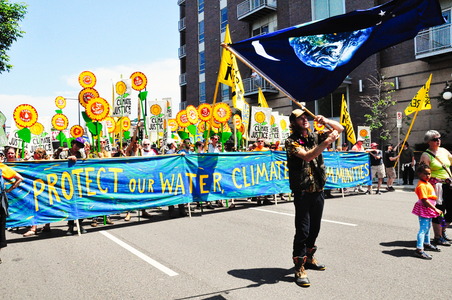 The proposed consent decree between DOJ, EPA, and Enbridge regarding the 2010 Kalamazoo and Romeoville spills is highly problematic in regard to its inclusion of Enbridge's Line 3 Replacement, a new proposed pipeline multiple states away from the largest tar sands spill in U.S. history. While the intent to protect public safety is admirable, the proposed consent decree would instead reward bad behavior and effectively mandate a new Keystone XL pipeline through the Great Lakes region, while resting on shaky legal ground beyond the scope of any federal agency's authority.
Enbridge's Line 3 Replacement is Keystone XL by a different name. They are both proposed 36" transborder pipelines which would carry heavy tar sands crude oil from Canada through the United States and across sensitive water, land, and cultural resources, with some oil potentially bound for export. The EPA noted Keystone XL would contribute to increased global warming emissions under market conditions of low prices by enabling further extraction of tar sands oil. Today's oil prices are similarly low and the urgency with which climate change must be addressed has only increased, as reinforced by the recent White House guidance to require consideration of comprehensive greenhouse gas emission impacts in reviews under the National Environmental Policy Act.
Instead of punishing Enbridge for its historic mismanagement of the Kalamazoo spill, the inclusion of the Line 3 Replacement in the proposed consent decree is a reward to a company with a record of bad behavior. The existing Line 3 is dangerous and fragile per Enbridge's own admission, and has been for years -- it should indeed be decommissioned (and this should be permanent, unlike the current consent decree which appears to leave a loophole to reopen the line). But continuing to operate an unsafe pipeline should not unlock approval to construct a new larger pipeline in a largely untouched corridor. Enbridge must decommission the existing Line 3 in a permanent way and seek approval for a replacement on that project's own merits, rather than receiving expedited approval as a reward for taking basic safety steps that the company should have taken years ago, per Minnesota regulators.
Enbridge is currently undergoing permitting and review processes at the Minnesota Public Utilities Commission for the Line 3 Replacement. Questions of pipeline routing and need are handled at the state level in Minnesota, and the EPA's decision to require Line 3's replacement would appear to preempt those established processes. If so, this is a radical and unprecedented revision of the pipeline approval process and a preemption of state's rights. EPA and DOJ should remove language requiring Line 3's replacement from the consent decree entirely and engage with the state process in a productive way, as EPA already has begun to do in the scoping process for the environmental impact statement which is currently underway.
In addition, as the proposed consent decree explicitly prohibits Enbridge from expensing or depreciating the $62 million on their income tax, so the consent decree should also state the company cannot expense or depreciate this amount on FERC tariff applications. The decree should also explicitly state no pipeline should be allowed to remain operational in the Lakehead system if any segment is so impaired that the Internal Line Inspection "pig" cannot be run through that segment.
Please revise the consent decree with Enbridge so that it does not require construction of a second Keystone XL pipeline through the Great Lakes region. Line 3 must be decommissioned for safety, but this should not be tied to approval of a larger replacement pipeline in a separate corridor. Remove the replacement requirement from the consent decree and let the Minnesota regulatory process play out.
Why is this important?
Canadian pipeline company Enbridge is trying to build a new Keystone XL-sized pipeline to carry tar sands oil through North Dakota, Minnesota, and Wisconsin.
This project -- which the company is billing as a "replacement" of an old and unsafe line -- just got a boost from the Environmental Protection Agency (EPA) as part of a proposed settlement relating to a massive tar sands oil spill in Michigan that the company was responsible for a few years ago. In effect, the EPA is "punishing" Enbridge for a devastating spill by requiring the company to build an entirely different pipeline that Enbridge has wanted for years.
Ordering a bad actor like Enbridge to build a new tar sands pipeline is a recipe for disaster for our climate. The EPA is currently accepting public comments on this decision. Submit a public comment and tell the EPA that operating an unsafe pipeline isn't something to reward.