To:

Bangladesh Power development board(BPDB), National thermal power company(NTPC) India
Stop coal-based Rampal power plant and save Sundarban.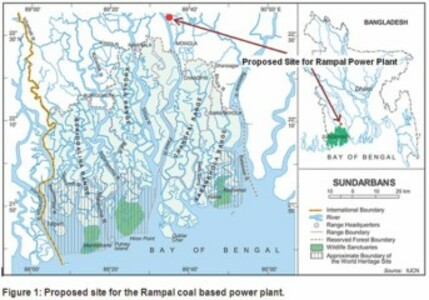 To stop Rampal power plant near the Sundarbans.
Why is this important?
Sundarban is the world's largest mangrove forest and a UNESCO world's heritage site. This proposed power plant is going to be built within 14 km of the forest, more precisely just 9km away from many reserved sections of the forest. This will definitely have a devastating and irreversible impact on the Sundarbans, its ecology and biodiversity.
For establishing this 1320 Megawatt power plant, Bangladesh will need to import about 4.72 million tons of coal each year. This massive freight will need about 59 ships each having an 80,000 ton capacity that take to the port which is 40 Kilometers away from the plant and its route cuts through the Sundarbans.
The scale of impact is beyond doubt and that has stirred the local dwellers and environmental activists to stop this dangerous project. Many esteemed organisations, political parties and national leaders have spoken against the Rampal plant. The message has been simple - "There are many alternatives to generate power, but Sundarbans has no alternative".
We need you to join the struggle and build international support to stop the Rampal plant, demand alternative energy and preserve the beautiful forests of the Sundarbans.