To:

University of Massachusetts Board of Trustees
UMass Alumni: Urgent call for Trustees to vote to Divest from Fossil Fuels on December 9, 2015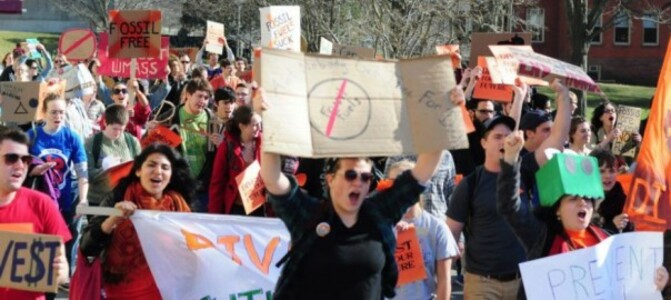 We, the undersigned University of Massachusetts Alumni, in collaboration with and in support of the students, faculty and staff, urge the Trustees, as you did in South Africa in 1977 and the Sudan in 1997, with no adverse financial consequences, to vote to divest of your fossil fuel investments at the December 9, 2015 Trustee meeting in Lowell and then, within five years, to sell those assets.
Why is this important?
1. Climate Change - Global warming is making the seas rise, the glaciers melt, and wreaking havoc for millions of the poorest people on the planet;
2. Keep Fossil Fuels in the Ground - It is essential that the oil, natural gas, and coal companies leave 80% of the available fossil fuels in the ground to keep the temperature from rising more than 2 degrees Celsius;
3. It is a Moral Responsibility - The UMass Board of Trustees has a moral responsibility to do everything it can do can to ensure that today's and tomorrow's University of Massachusetts' students have a good life on an inhabitable planet as "global temperatures are running far above last year's, all but guaranteeing that 2015 will be the hottest year in the historical record." ("2015 Likely to Be Hottest Year on Record," by Justin Gillis, The New York Times, October 22, 2015)
4. Time to act is NOW - as world leaders will be in Paris in December, while the Board of Trustees are in Lowell, to approve plans to dramatically reduce their nation's fossil fuel consumption.
Since President Meehan has stated that he wants the University of Massachusetts to become one of the top 20 universities in the country, this is a perfect opportunity for the University to be a leader on the most important issue of the 21st Century - Climate Change. Other higher education institutions like Stanford (Coal only) and University of California (Coal and Tar Sands Only) have voted for partial divestment. UMass can show it is a leader, role-model, and world class institution by voting to fully divest of all types of fossil fuels including Coal, Tar Sands, Oil, and Natural Gas from its investments - both direct and indirect (i.e. co-mingled funds).