To:

U.S. Bancorp
US Bank: Fund Solutions, Not Pollution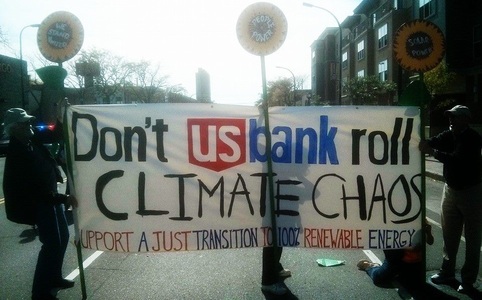 Stop financing extreme fossil fuel projects such as Enbridge Energy's tar sands oil pipeline and coal.
Why is this important?
Dear U.S. Bank,
You're breaking my heart. You use my money to support the dirty energy companies that threaten our water, climate, indigenous rights and the health of our communities. You are jeopardizing our children's future.
U.S. Bank, I need a relationship based on trust. You claim you care about climate change, but I found out you got together with Wells Fargo, and provided $22 billion dollars in financing to the oil and gas industry over the last 3 years.
U.S. Bank, I've had enough, it's over between us! I am moving on to a bank that has begun divesting from fossil fuels.
Sincerely,
(Your Name)
Sign and share to pledge to attend a Move Your Money action at a U.S. Bank near you!
For more information about which banks have begun to divest from fossil fuels, see "The End of Coal" report at http://bit.ly/1OBvhPt
To find a community bank or credit union near you, visit http://www.icba.org/ or http://www.asmarterchoice.org/
How it will be delivered
We will deliver the petition in person to U.S. Bank headquarters, as part of our negotiations with the Bank.